Hello, my sweet feminist friends!
Today we are talking all about the "F-Word." In today's society, there are a lot of conversations about feminist issues, which is a great start on our way to a world full of gender equality. However, we are nowhere near where we need to be in order to call this  world "equal," or "just."
I could write hundreds of thousands of words on feminism, so sometimes it's overwhelming to write these kinds of posts because there is just too much to say. Today's post is just a quick compilation of the biggest ways in which being a feminist has been a positive part of my life.
I try my best to write everything on here through a feminist lens. If you want to learn more about being a feminist though, be sure to stick around because there will be plenty more content of this sort to come.
If you're interested in learning more right now, check out my 6 Ways You Can Support Women No Matter Your Gender, In Defense of Gillette's "The Best A Man Can Be", What Being A Woman Means To Me, #MeToo Is An Irreplaceable Community In Support Of Survivors,  or This Is What A Feminist Looks Like posts.
Meet Bridgette and Crystal 
This post is also a collaboration with two of my amazing friends who also happen to be bloggers, Bridgette of "The Feminist Motorist," and Crystal of "A Write In Shining Armor." Be sure to check out both of their amazing blogs, as well as their latest posts in collaboration with this one! Photo credits go to our friend Shayna of Shayna's Diary.
---
Feminism Has Helped Me Find My Voice And Its Value.
Feminism reminds me that my voice matters. How I see things and how I feel about things matters. I am always allowed to use my voice, the fact that I am a woman doesn't change the validity of my thoughts and feelings.
Feminism has helped me realize that I am valuable. It has taught me that using my voice is actually something to be proud of, not something that I should be ashamed of. I've always been talkative and loud, and being bilingual has opened my doors to be able to speak to more people. I've spent my entire life being told to be quiet, talk less, share fewer opinions, and be softer in both volume and character. Feminism has taught me that what I communicate and how I do it is completely up to me.
Feminism Has Helped Me Believe That I Am More Than How Attractive People Find Or Don't Find Me.
I am somebody whose weight has fluctuated a lot. I've struggled with disordered eating, and I've always had a really tough time with body image. I think that any plus-size woman can tell you that it's far from a walk in the park. We are talked down to, and sometimes even dehumanized, because we don't fit society's definition of beauty. Being a feminist has taught me that what I have to say and what I carry inside my soul is so much more valuable than whether or not people find me attractive. I still struggle with my body image very, very often (don't get me wrong). But feminism has taught me that if somebody isn't willing to listen to me or treat me like a human being because of what I look like, they aren't somebody whose approval or love I need to seek.
Feminism Has Helped Me Understand That We Are Not All The Same, But We Deserve The Same Things. 
Men and women and non-binary folks are all talked to by society so differently. We grow up differently as a consequence of this difference in societal treatment, norms, and expectation. We all deserve safety, success, and love, among other things, but some of us have to fight harder to get it in certain aspects because of our gender.
Feminism Has Helped Me Realize The Kind Of Relationships That I Don't Want To Be In.
I like dating guys that identify as feminists. Not that if they identify with this label they're automatically great, but this is honestly a deal breaker for me. I would never want to date somebody who thinks he needs to save or protect me from the world because I'm a woman. I don't want the person who I date to be kind, polite, or thoughtful because he's a "gentleman," I want him to be kind, polite, and thoughtful because he's a good person, not because he's a man and I am a woman. Let me know if you'd like a whole post on my thoughts about feminist dating, because I have a TON to say!
Feminism Has Helped Me Seek Out Really Good Allies.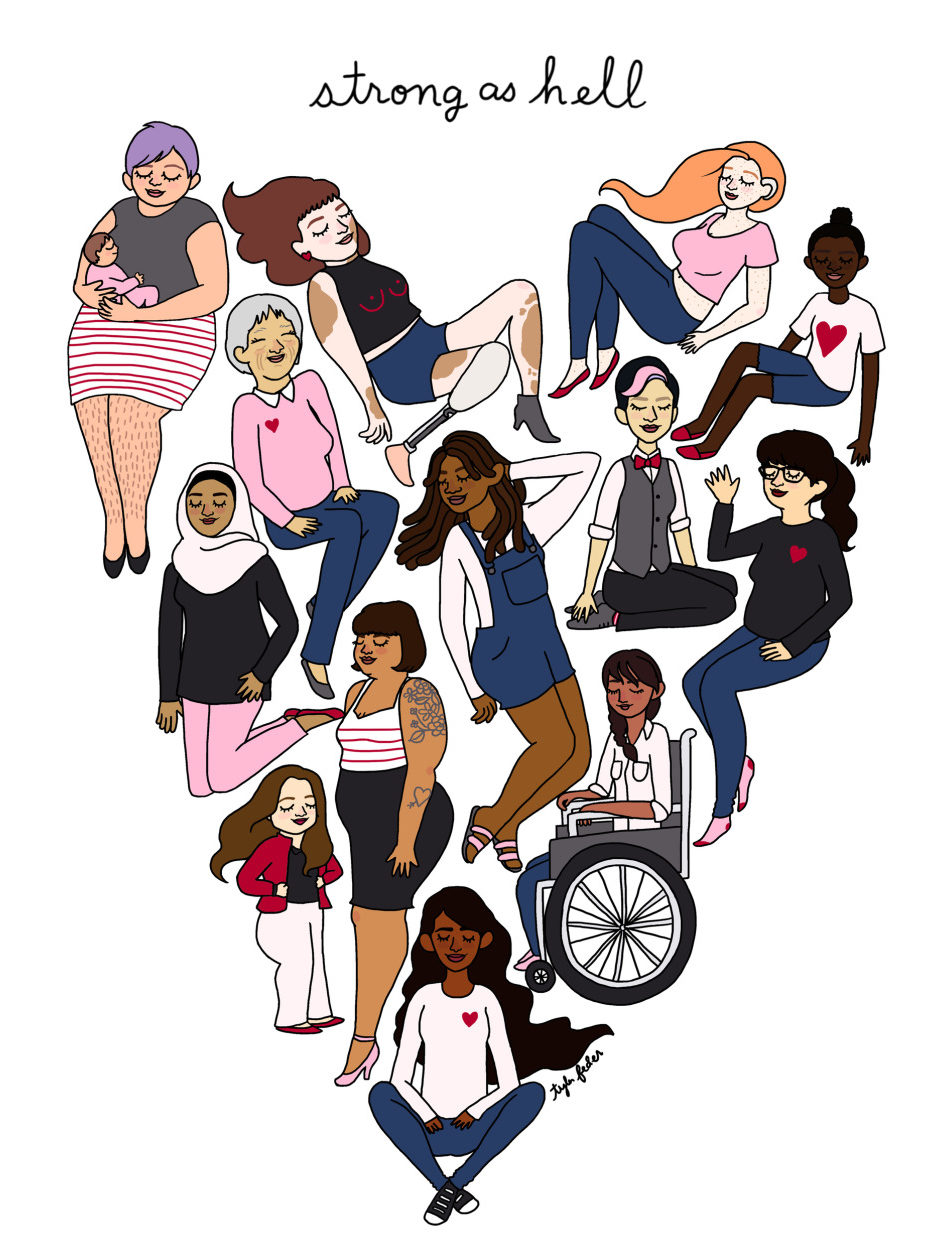 Feminist friendships are the best. It's so refreshing to have people who you can always count on for solidarity; people you can talk to about anything from body image, to crappy dating experiences, to difficult experiences as a woman in the workplace, and they'll make sure you remember that you're a nasty woman who can handle it. These are the friends who will do anything from take you to the bathroom to avoid creepy dudes from trying to hit on you at the bar to validate your experiences as a woman, and so much more. These friendships are so important. Special shoutout to my friends in the "GRRL GANG 🌹 🖤 🌹 " group chat. My friend Grace actually threw a "Thank U, Next" party for me during my last breakup where a bunch of girls hung out, drank wine, and sang along to a lot of Lizzo, Dua Lipa, and Ariana Grande. That's the epitome of girl squad goals, in my opinion.
---
A Feminist Playlist
Who would I be if I didn't include a playlist in a post? Not myself, that's for sure. This is the playlist that I made for International Women's Day and included in my 6 Ways You Can Support Women No Matter Your Gender post! My favorites from the playlist are "La Puerta Violeta" by Rozalén, and "Respect" by Aretha Franklin.
---
Please check out Bridgette and Crystal's Blogs!
---
With so much love,
---
Follow Me On Social Media!
---