I'm going to be really transparent here with something that's been weighing on my heart a lot recently. I know that I'm not the only one who feels this way, and it's time somebody talked about it. Get ready for some big feelings.
.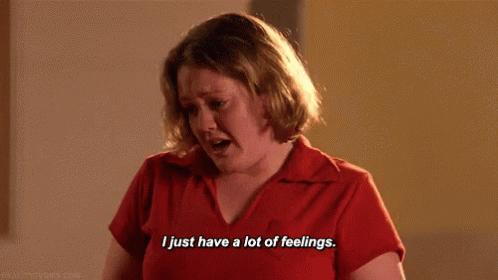 .
I've always wanted people to look at me and think, "damn, this girl is a boss."
I've always wanted that praise.
I've come to realize that this is an extremely self-destructive thought process.
I'm a full-time student at a top-tier university. I am involved with 4 organizations on my campus, and I hold the president spot in one of them, an editorial position in another, and an executive position in another. I also write for a publication off of my campus. I also hold several organizational responsibilities within my individual college. I live in an apartment with one other person, and I am completely on my own in terms of feeding myself, doing my share of the housework, and all of that other good adult stuff.
Oh, I also run this social media network called "Indira's Inner Beauty." And I do it 100% by myself. I do the writing, editing, photography, videography, web design, social media outreach, advertising, makeup, and whatever else the job calls for. It's all me. And that's a lot of stuff for a one-woman show.
I'm pulling double duty – and I'm making a lot of sacrifices that most of the people around me don't have to make. Sometimes on really long, stressful days I just want some acknowledgement of the fact that what I'm doing is hard, but I'm still doing it anyway.
.
I'm trying my absolute best, and I still find myself never feeling like it's enough. 
.
I know that I am doing my best at juggling it all at once.
.
It's hard to take on my role in each of these areas of my life in a way that I put in 100% of my effort. I try my best, but the effects of that effort on my life have definitely not been pretty.
.
I've taken on all of these other roles, yet I have completely neglected my role as simply a human.
.
.
Iced coffee and an overpriced mini hummus cup from the library café is not a meal. It is certainly not enough to get you through a day.
.
You should never feel guilt for taking time to sleep or shower. I cannot believe that almost 20 years into my life I still have to remind myself of this, but I do.
.
You're allowed to make time to have a social life.
.
You're allowed to do things simply for enjoyment.
.
You're allowed to do things simply for relaxation.
.
You're allowed to not be productive all the time.
.
Taking the time to be human does not make you any less of a boss.
.
.
I'm working my tail off, and that's important, but I'm also allowed to take a step back to just be a person; a person who lives a life that they are happy with.
.
I've also come to realize that nobody but me is going to give me the validation that I have always wanted. 
.
Nobody is going to look at how hard I hustle and give me a high five with one hand and a candy bar with the other.
.
Nobody is going to look at my hard work and tell me that I'm a boss. Nobody is going to reassure me that my vision and voice matter when I'm having a bad day. Nobody is going to keep me motivated when it's 3am and I am sitting in a library writing a research paper about a topic that I could not care less about. Nobody is going to be the cheerleader that I've always wanted on the sidelines of my life.
.
I have a few amazing support systems who fulfill some of these cheerleader roles for me. I am so grateful that there are certain people in my life who foster positivity and support all of my projects. These people know who they are, and they know I am endlessly grateful to have them on my metaphorical team. Their love and encouragement keeps my heart warm.
.
There are people who I believe should be supporting and encouraging me. Some of them fall into the above-mentioned cheerleader role. That being said, a lot of people whose support I expected have not given it to me.
.
It sucks when you count on somebody's support, and you don't get it.
.
.
These people have taught me not to expect permanence from everybody, and that the best person to count on is little old me. These are people who I think should be reading/watching my content, supporting my tough decisions, and telling me that they are proud of me. And I have not gotten that from them. It's not that they've all blatantly discouraged me, but some of them are people who I automatically (and incorrectly) assumed would want to cheer me on. You know what they say about assuming.
.
The only person whose validation I should seek is my own.
.
.
Expecting somebody else to give me this validation and support is foolish, and a way of thinking that has caused me a lot of hurt in the past.
.
I'm working on reminding myself every day that I am emotionally dependent on absolutely no one, and I am capable of doing great things on my own because I am me, and I am enough.
.
Support from others is really nice, but I've realized that it is only valuable if it is supplemental to unconditional support from within yourself.
.
People who have chosen not to give me the support and encouragement that I have always craved, their absence or indifference has caused me pain that has made me stronger. This newly built up strength has helped me develop a new layer to my independence because I know that I have to encourage myself, empower myself, reassure myself, pat myself on the back, inspire myself, and pick myself up off of the ground every single time. by. my. self.
.
On that same vein, the only person whose permission I need is my own. 
.
If I want to take a nap between classes, I can.
.
If I want to take a 20 minute shower and scream Dua Lipa's entire discography throughout, I can.
.
.
If I want to pour my entire heart and soul into something that I want to use to help other people (IIB), I can.
.
If I want to be an advertising major despite being told my entire life that I should become a doctor or lawyer, I can.
.
I can do whatever the hell I want, and I am the only person who gets the final say over my decisions.
.
I am the one who will be living with myself through it all. What I think matters the most. How I feel matters the most.
.
Taking care of yourself, whatever that means to you, is so important.
.
Taking the time to do the things that make my soul sparkle – that's what I call taking care of myself. Whether it be giving myself time to write and be creative, or making the choice to walk in the fresh air instead of taking a bus or car, I know that the person who I need to depend on to take care of me is me.
.
Self care can be something as simple as stopping your work for an hour to cook yourself something nutritious to eat, or putting your blanket in the dryer for a few minutes before bed so you can fall asleep in a warm little burrito. It doesn't have to be glamorous or extravagant.
.
I will write a post soon on doable ways to take care of yourself. Definitely let me know in the comments if you'd be interested in that.
.
---
This post was a lot, and all over the place, but it's what's been on my mind recently. I know I'm not alone in feeling like this, and I want to help both y'all and myself through this.
.
Would this really be an IIB post if it didn't have some sort of list in it? The answer is no.
.
Here are the takeaways I hope this ramble bestowed upon you.
.
1) The only person who you need to make proud is you.
.
2) Nobody is going to tell you how much you rock, you have to validate yourself.
.
3) Depending on another person for emotional support is not healthy. You need to be there for yourself.
.
4) If you are doing the best that you can, your efforts are absolutely enough.
.
5) You don't need to do it all.
.
6) You get to be human. Humans aren't perfect.
.
7) Sometimes the people who should be supporting you don't. And it sucks.
.
8) Support from other people is nice, but it's only valuable if you know that you (yes, YOU) are everything you need.
.
9) The only person whose permission you need is your own.
.
10) You are the guac on the burrito: extra, but totally worth it.
.
With so much love,
.
---
.
Gifs courtesy of:
.
"I Just Have A Lot Of Feelings"
.
"I Get Things Done"
.
"I'm Tired"
.
"Inhale, Exhale"
.
"… Big Girl Pants"
.
"Being Yourself…"
.
Dua Lipa
.